You are here
News 27.05.2021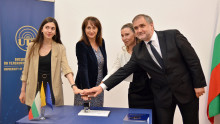 27.05.2021
A philatelic edition is dedicated to the Higher School of Telecommunications and Posts
The Deputy Minister of Transport, Information Technologies and Communications Hristina Velinova and the Rector of the Higher School of Telecommunications and Posts Prof. Dr. Miglena Temelkova validated a publication dedicated to the educational institution. The executive director of Bulgarian Posts EAD Deyan Daneshki also took part in the event. The university inherits the traditions of the State Telegraph and Post School, which was established 140 years ago by decree of Prince Alexander I Battenberg.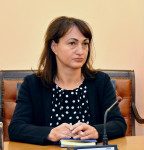 27.05.2021
Deputy Minister Christina Velinova presented the Bulgarian position at the International Transport Forum meeting
In order to find a balance between control and facilitation, we should introduce electronic communications to reduce the share of paper documents, underlined Caretaker Deputy Minister of Transport, Information Technology and Communications Christina Velinova during a videoconference meeting of the Ministers of Transport of the International Transport Forum. According to her, Bulgaria will continue to work on the main priorities of the International Transport Forum and will cooperate with member states to overcome the difficulties the transport of goods and passengers is facing.