You are here
News 22.06.2021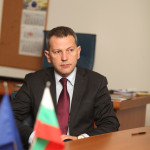 22.06.2021
Minister Georgi Todorov approached EU Commissioner Adina Vălean on the free traffic flow of goods across European borders
Minister of Transport, Information Technology and Communications Georgi Todorov sent a letter to EU Commissioner for Transport Adina Vălean. The letter states that despite our common efforts for the implementation of the Green lanes, worrying situations have been witnessed at some intra-EU border crossing points, including between Bulgaria and Romania. The Bulgarian heavy goods vehicles have been caught in long queues and the cross-border circulation of goods between Bulgaria and Romania has been heavily impeded.
22.06.2021
Launch of a project for implementation of integrated Bulgarian maritime surveillance
The project "Implementation of Integrated Bulgarian Maritime Surveillance (InBulMarS), based on a Information Sharing Environment (CISE) for surveillance of the EU maritime territory - with the acronym InBulMarS 2" has been launched. The opening meeting will be held on June 23, 2021 in Varna.
The program envisages the presentation of the project for the media representatives on June 23, 2021 at 12.00, in the Roslin Dimyat Hotel.