You are here
News 03.10.2021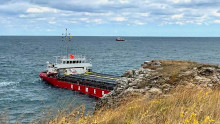 03.10.2021
European Maritime Safety Agency has not detected any water pollution near the cargo shipVera SU
No water pollution was reported within a 1 mile radius around the stranded cargo ship Vera SU. This was the result of a detailed inspection of the area by a drone sent by the European Maritime Safety Agency (EMSA).
As part of the measures to reduce the harmful impact on the environment, the Bulgarian side requested assistance from EMSA to provide technical means in possession of the Agency. In addition to the drone, so far EMSA had provided floating bunkers that had already started their voyage to Bulgaria. They shall be used for removing the liquefied cargo out of the ship.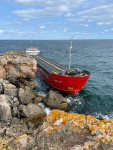 03.10.2021
Minister Alexiev: The important thing is that the cargo of Vera Su be safely unloaded, the ship is stabilized
It is important that the cargo of the ship Vera Su stranded near the area of Yailata be safely unloaded, the Minister of Transport, Information Technology and Communications Hristo Alexiev said at a briefing of the National Crisis Group. Prior to that, the General Director of Emergency and Rescue Activity DG in the Maritime Administration - Varna Rumen Nikolov informed that the vessel was stabilized and was in a horizontal position.