You are here
News 12.05.2022
12.05.2022
Minister Sabev: The companies that implement their projects on schedule have our support, and we will terminate the contracts with the others
All construction companies that carry out their projects on schedule and with the required quality have our support. With the others, we will consider the possibility of terminating contracts and announcing new procedures in which we will invite the best international companies to participate. This was stated by the Minister of Transport and Communications Nikolay Sabev during an inspection of railway projects along Sofia-Plovdiv railway line.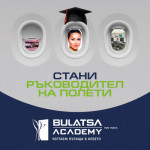 12.05.2022
BULATSA resumed selecting candidates for air traffic controllers
BULATSA Academy resumed the session for participation in the selection for the position of Air Traffic Controller. From today to October 31, those wishing to apply for the profession can submit documents on the official website of BULATSA www.bulatsa.com.