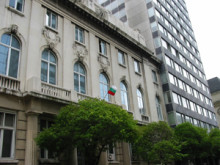 One hundred and seventy-four municipalities receive an additional subsidy for the transport of passengers on bus lines for 2022. The funds, in the amount of BGN 36.5 million, were allocated by a Decree of the Council of Ministers on the proposal of the Ministry of Transport and Communications.
The Ministry requested up-to-date information from the Mayors of all municipalities on whether they have commissioned transport on bus lines and whether they have valid contracts with carriers, regardless of the type of transport scheme (republican, regional or municipal).
Based on the received up-to-date information from 174 municipalities, contractors of transport services, limits were determined for the allocation of funds. BGN 16.5 million of the approved funds are for subsidizing the transport of passengers on unprofitable bus lines in intra-city transport and transport in mountainous and other areas. An additional BGN 20 million has been provided to the municipalities to support carriers operating intercity bus routes. These funds are intended to cover the costs of their transport activities given the severe economic consequences of rising fuel prices, increased electricity prices, increased personnel costs, etc.
The funds are provided at the expense of the planned expenditures of the Central Budget for 2022. They will be provided by the municipalities to carriers who are assigned bus services and who comply with the rules for public passenger transportation.
The Ministry of Transport and Communications has also developed instructions for the Mayors to distribute the funds.