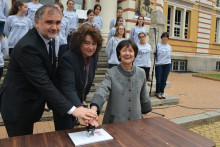 A postcard with a collector's circulation of 511 pieces was validated today on the occasion of the 60th anniversary of the Children's Choir of the Bulgarian National Radio. The seal for putting into use was put by the Deputy Minister of Transport, Information Technologies and Communications Andreana Atanasova and the chief conductor of the children's radio choir Venetsiya Karamanova.
"Today, as the world celebrates Music Day, the Ministry of Transport, Information Technology and Communications joins the theme with a philatelic edition. It is the second for the children's radio choir and the eighth, dedicated to the Bulgarian National Radio, "said Deputy Minister Atanasova during the ceremony. According to her, the first stamp for the choir was validated 10 years ago together with the founder of the people - maestro Hristo Nedyalkov. "We highly appreciate the success of the children's choir. We are grateful to BNR for supporting a good message that the children of Bulgaria send around the world to promote our culture, traditions and songs, "said Andreana Atanasova.
The author of the project of a postcard is Omana Katsarska. The ceremony was hosted by the Regional History Museum in Sofia.