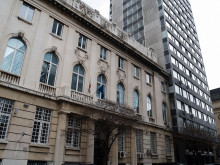 Yesterday, August 14, 2021, at about 7:50 pm, in the area of the village of Mirkovo, Pirdop municipality, Sofia district, an ultralight plane caught high-voltage power line wires. As a result, the plane crashed and hit the ground, behind the ceramic factory located in the area. The plane was destroyed as a result of the crush. The pilot and the passenger were injured and taken to hospital.
A team from the National Board for Investigation of Accidents in Air, Water and Rail Transport arrived at the place immediately. After a thorough inspection, it was concluded that the aircraft was without registration marks and was not enrolled in the register. The people involved in the accident will be checked for valid licenses of flying ultralight aircraft.
Under the Civil Aviation Act, Art. 12 and Art. 5 of Regulation (EU) (996/2010 of the European Parliament and of the Council, aviation safety investigations shall be carried out on registered aircraft. In this regard, the National Board for aircraft, maritime and railway accident investigation will not conduct an investigation. The investigation of the accident was taken over by the National Investigation Service.