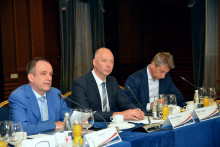 The creation of a Consultative Council between government, industry and industry experts can accelerate the creation of ethical rules for the development of artificial intelligence and help to make effective use of the European supercomputer in Bulgaria. This idea was supported by the Minister of Transport, Information Technology and Communications Rossen  Jeliazkov and representatives of the IT business during the second Round Table on the Digital Economy, which was organized by the American Chamber of Commerce in Bulgaria.
Minister Jeliazkov urged business representatives to participate in the public discussions of the strategic documents related to the development of artificial intelligence - Digital Program National Program, Industry Strategy 4.0 and Strategy for e-Governance. "Here is your role as a professional, to make vital rather than hollow successive strategies. Their application will then be very clearly articulated when it comes to specific roadmaps, projects and the use of new financial instruments, "added Rossen Jeliazkov. In his words, a wide-ranging discussion among the different administrations on the role and approach to new technologies has been launched at national level. The key areas in which artificial intelligence will be of particular importance for the time being are industry, education, health and public administration.
"The crucial moment is not so technological, but the regulatory and the possibility of setting and defining clear goals, so that industry and state go hand in hand and neither over-protectionism nor over-regulation is created," the minister said.
"The government's policy is aimed at reducing administrative burdens related to the development of 5G infrastructure as well as pricing policy that allows industry to use spectrum rather than seeking technology solutions to fill the gap." This was stated by the Minister Rossen Jeliazkov before the participants in the forum. He informs that he has already held meetings with representatives of municipal administrations and the National Construction Control Directorate to discuss the legislative provisions to be applied when deploying base stations for 5G.