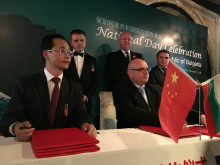 In the presence of Deputy Minister of Transport, Information Technology and Communications Anton Ginev was signed an Agreement between Sofia Airport and a Chinese company. The Bulgarian company will receive a software product - a system of human resource management in operating the aircraft. It took place during the visit of Deputy Minister Ginev in the cities of Shanghai and Zhengzhou in China in the period 2 - 6 March 2016.
The product will save time in the implementation of communication, the goal is to improve work efficiency and reduce costs of the airport. It will facilitate transfer of data and information within the metropolitan airport. Both installation and maintenance of the product at the first airport in a European Union country will be free within five years. The software product operates at the third largest airport in Shanghai, China.
Within the visit Deputy Minister Ginev went to the capital of the Henan province - Zhengzhou City, which is the main transport hub in central China and held meetings with representatives of Zhengzhou International Hub Development and Construction Co., Ltd. (ZIH), a Chinese state company operating in the field of transport and logistics. Representatives of the company have already visited operating Bulgarian ports in order to acquaint with their technical condition.
In the presence of Anton Ginev between a Bulgarian company and the Chinese ZIH was signed a cooperation agreement. The document has the following range - collaboration, cooperation and joint operation of the Zhengzhou - Bourgas line, including by Bulgarian ferry, as a key part of the new "Silk Road", where Bourgas will be the gateway to Europe and the first European destination. In the seaside town the containers will be loaded onto a block train to Hamburg. The route of the freight, transported by ferry, starts from the Chinese Henan province - Kazakhstan - Caspian Sea - Baku - Georgia - Black Sea through Bourgas and continues by block train to Western Europe.