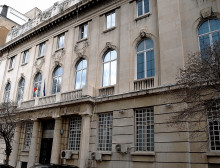 Alexander Pulev has been appointed Deputy Minister of Transport, Information Technology and Communications.  He holds a master's degree in finance from Oxford University and a bachelor's degree in information systems and finance from the University of Maine, USA.
His professional career passes through UniCredit Bulbank, where he has been the Director of Investment Banking for the last four years;  The European Bank for Reconstruction and Development, of which he has been the Chief Banker for six years;  Transaction Consulting Manager at Ernst & Young.
He has worked for global companies such as Brown Brothers Harriman and General Electric.
Alexander Pulev has many years of experience with key transactions in the country and abroad, including the concession of Sofia Airport, the purchase of Nova TV, issuance of Government Debt 2021, financing of the Schwartz Group, acquisition of energy assets by Enel Romania and others.
Married with one child.