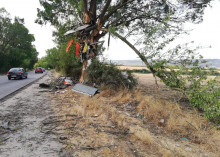 The evacuation of all passengers from the bus that crashed in the night on Ruse-Veliko Tarnovo road was successful. This became a reality after the immediate action taken by the Deputy Prime Minister and Minister of Transport and Communications Hristo Alexiev.
Authorized structures in the Ministry of Transport and Communications took immediate action. The Civil Aviation Administration Directorate General and the Bulgarian Air Traffic Services Authority (BULATSA)  provided full assistance to their Romanian colleagues for the accomplishment of the necessary number of flights for the evacuation of the injured. A flight plan for five Romanian helicopters was agreed and approved.
 The Deputy Minister of Transport and Communications Nikolay Naydenov was at the scene of the accident to supervise the fulfilment of the duties of Road Transport Administration Executive Agency's servants, and full cooperation of the investigating authorities was lended.
"The tachograph has not yet been found. Our servants continue to search for it in order to clarify the circumstances", Deputy Transport Minister Naydenov announced. According to information received from the Romanian side, the company and the bus carrying out the transportation possessed a license.
The bus that crashed in the night was traveling along the route Istanbul-Bucharest. It was driven by two drivers, and the passengers were Romanian and Turkish citizens. Four people died in the serious traffic accident. Investigation started, following initial inspections of the site of the crash. Normal 0 21 false false false BG KO X-NONE /* Style Definitions */ table.MsoNormalTable {mso-style-name:"Table Normal"; mso-tstyle-rowband-size:0; mso-tstyle-colband-size:0; mso-style-noshow:yes; mso-style-priority:99; mso-style-parent:""; mso-padding-alt:0cm 5.4pt 0cm 5.4pt; mso-para-margin-top:0cm; mso-para-margin-right:0cm; mso-para-margin-bottom:8.0pt; mso-para-margin-left:0cm; line-height:107%; mso-pagination:widow-orphan; font-size:11.0pt; font-family:"Calibri",sans-serif; mso-ascii-font-family:Calibri; mso-ascii-theme-font:minor-latin; mso-hansi-font-family:Calibri; mso-hansi-theme-font:minor-latin; mso-fareast-language:EN-US;}