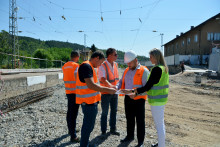 Belovo railway station, which historically was the reason for the foundation of the settlement, will meet all European requirements within a year, as concluded following the inspection of the site of the Deputy Minister of Transport, Information Technology and Communications Neli Andreeva and the Director General of the National Railway Infrastructure Company Krassimir Papukchiiski. "Currently, the old building has been completely removed and the construction of the new main building is under preparation. The new railway station is due to be built within a year, and people with reduced mobility will have access to it", Deputy Minister Andreeva explained.
The activities are part of the thorough modernization of Kostenets-Septemvri railway line, which is being built with European funding. "The modernization of the railway line between Belovo and Septemvri is progressing at a good pace and the line is being built on a new route, which will allow trains to achieve the speed of 160 km/h", said NRIC Director General Krassimir Papukchiiski. "All drainage facilities in the section have been completed, including the elements of the lower construction of the railway and the railway traverse grill, as well as the pillars for the new catenary", he added.
The project included the construction of complex engineering facilities (tunnels and viaducts), the preparatory activities for which are currently in progress. The contractor of the site stated its readiness in terms of equipment and labor to start work in the other section - Kostenets-Belovo, after receiving a building permit from the Ministry of Regional Development and Public Works.
The construction of the railway line passing through Belovo is the reason for the foundation of the city more than 150 years ago. It was originally a temporary settlement for the Baron de Hirsch workers, who logged timber in the area for the construction of the railway. In this regard, many people from all over Bulgaria have settled here. Subsequently, due to the rapid growth of industry nearby the railway station, today's settlement has been founded.
An interesting fact from the history of Belovo railway station is that Todor Kableshkov, the first Bulgarian railwayman and participant in the April Uprising, began his professional railway career here.