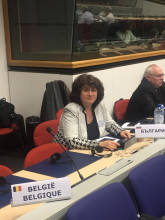 The Deputy Minister of Transport, Information Technology and Communications Andreana Atanasova has been elected Vice-Chair of the European Commission's Spectrum Policy Group (RSPG). This post is being held for the first time by a representative from Eastern Europe.
The group makes suggestions regarding spectrum availability; frequency harmonization and allocation; health aspects of human impact, etc. It is an advisory body to the European Commission on the effective coordination of Member States' radio spectrum activities with international organizations. Another focus of the group's work is on addressing spectrum coordination issues between individual Member States.
One of the main tasks of the group is to propose actions to address the challenges facing Member States in the strategic planning and harmonized use of spectrum required for the development of high-speed 5G generation networks.
The Group is chaired by a Chair, assisted by a Vice Chair. At a meeting today, Frank Krueger, the former vice-chairman of the structure, was elected head.