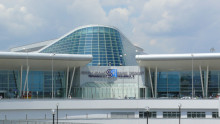 Today, April 11, 2019, applications for participation in the procedure for designation of a concessionaire and award of concession for the construction of Civil Public Airport Sofia - public state property were opened. According to Art. 96, para. 1 of the Concessions Act, the commission for opening of the procedure opened the applications received in due time in a closed session.
During the deadline for submission of applications and offers, applications from the following participants were received:
"Vitosha" Consortium with leading member of Manchester Airport Group Superior Investments Limited. Participant in the consortium is also BCEGI Construction (UK) Ltd, with sole proprietor Beigin Construction Eingengering Group;
2. "SOF Connect" Consortium with leading member of Meridiam Eastern Europe Investments SAS. Flight of the airport operator is indicated by Flughafen München;
3. UBB Consortium Sofia Airport JV with leading member BSB Sauerwain & Scheffer Bau AG. To comply with the airport operator requirement, Copenhagen Airways A / C is indicated;
4. Fraport Bulgaria EAD. For compliance with the requirement for technical capabilities and financial capabilities, Fraport AG Frankfurt Airport Services Worldwide is mentioned;
5. Airports De Pari Consortium EU. EY and TAV Havalimanlar Holding AH with leading member of the EU Airports De Pari. Eh. The "Airport De Pari" EU is indicated to meet the airport operator requirement. Eh.
The Commission for conducting the procedure should perform the actions of admission of the participants.
Tenders of the admitted participants will be open to an open commission meeting, which will be held on 9 May 2019. Participants or their representatives, as well as others, may attend the meeting.