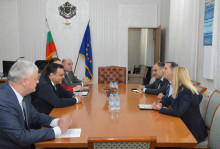 Bulgaria and Cyprus will sign a Memorandum of Cooperation between the maritime administrations of both countries. This was discussed today at a meeting between the Minister of Transport, Information Technology and Communications Ivaylo Moskovski and the Minister of Transport, Communications and Works Marios Demetriades. The document is expected to be signed at the end of November.
The memorandum shall regulate the cooperation between the two countries in the process of qualification of seafarers. Bulgaria and Cyprus will partner in the development of positions related to international maritime navigation as well as to the elaboration of European regulations and directives.
The two ministers also talked about the use of public-private partnership in the implementation of various transport projects. Marian Dimitriadis pointed out that the Cypriot side successfully developes port and airport infrastructure through concessions and this is an extremely successful model of partnership.
Ivaylo Moskovski presented to his Cypriot counterpart the country's priorities for the forthcoming EU Presidency as well as the forthcoming introduction of the toll system. They also agreed to enhance cooperation on infrastructure projects and continue good cooperation within the International Maritime Organization (IMO).