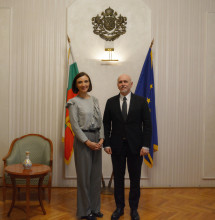 Bulgaria and Georgia have a common vision for the development of economic relations between the two countries, as it was pointed out during a meeting between the Minister of Transport and Communications Nikolay Sabev and the Ambassador Extraordinary and Plenipotentiary of Georgia H.E. Tamuna Liluashvili.
"Good relations between the countries are the skeletal system of a well-functioning economy and we express our readiness to work in this direction", Minister Sabev said. A real step towards these actions will be our country to host a business forum in June in Varna. It will be dedicated to logistics not only between the two countries, but also between the other countries along the Silk Road.
During the conversation, the possibilities for opening a direct air line were also discussed, with Ambassador Liluashvili presenting the readiness of the Georgian government to offer serious discounts and privileges to Bulgarian airlines that are interested in operating on this route.
Targeted actions to intensify ferry connections will be part of the task of achieving better transport connections both between the two countries and in a broader aspect between Europe, the Caucasus and Asia.
At the end of the meeting, Minister Sabev said that Bulgaria's economic interest suggests that all opportunities on the part of Georgia and Bulgaria should be accumulated and the necessary conditions provided to the business community in order to restore trade, passenger traffic and economic relations.
This year will mark the 30th Anniversary of the establishment of diplomatic relations between the two countries with validation of a postage stamp.