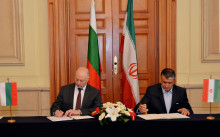 The Bulgarian and Iranian aviation authorities will negotiate an amendment to the current air transport agreement and the future direct line between the two countries. This is one of the results of the Intergovernmental Bulgarian-Iranian Commission on Economic, Scientific, Trade and Technical Cooperation, held on 18 and 19 April in Sofia, the Minister of Transport, Information Technology and Communications Rossen Jeliazkov announced during the closing session. He pointed out that a meeting of the Joint Committee on International Road Transport was held within the session. He also announced that the countries expressed their mutual interest in resuming the international road passenger transport between them.
Minister Rossen Jeliazkov summarized that signing of Memorandum of Understanding of the Economic cooperation; accreditation, ports and maritime transport, meteorology, posts as well as cooperation of the Chambers of Commerce of the two countries are the most important achievements of the intergovernmental commission.
The head of the Iranian delegation and Minister of Roads and Urban Development, Mohammad Eslami said at the closing session that the creation of an air bridge would help trade relations, tourism and the acceleration of investment opportunities.
Within six months, the final expert meeting will be held to finalize the draft agreement on the international transport and transit corridor Persian Gulf - Black Sea, the Bulgarian Minister said. In the field of maritime transport, in order to encourage the bilateral cooperation and the exchange of seafarers on merchant ships, the two sides negotiated a Memorandum of Understanding on Mutual Recognition of License Certificates.
The possibility of resuming the Joint Energy Commission's work and the Joint Working Group on Natural Gas was discussed.