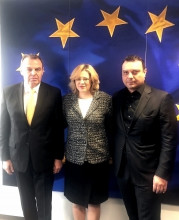 Bulgaria and Romania will look into the opportunities for establishment of a joint venture company for project management in the common section of the River Danube. This was the topic of discussions in Brussels between the Minister of Transport, Information Technology and Communications Ivaylo Moskovski, the Minister of Transport of Romania Lucian Sova and the EU Commissionaire for Regional Policy Corina Crețu.  Commissionaire Crețu pointed out that the River Danube is an important transport corridor for all European states and that the European commission is ready to aid Bulgaria and Romania to cope with all topical issues concerning river navigation.
Minister Ivaylo Moskovski presented the projects Bulgaria is implementing through European financing and national funds. He mentioned that BulRIS project deployed modern navigation management technology and systems in the Bulgarian section of the river. The Minister said that Bulgaria has signed a contract for river dredging, which ensures navigability in the Bulgarian section in the next three years. Parallel to this, there is an ongoing tender procedure for delivery of multifunctional dredging equipment that Executive Agency for Exploration and Maintenance of the Danube River will purchase. "In a year we delivered in Rousse two new river exploration vessels, and by September the construction of a vessel for waterway marking will be completed", commented further Minister Moskovski.
Minister Lucian Sova noted that Bulgaria has made significant progress on the maintenance of the river and it is of paramount importance for the Romanian party to implement the joint FastDanube project. It aims at making a feasibility study on the condition of the common section of the river to pinpoint joint activities for improvement of navigability.
The meeting also discussed the construction of a third bridge on the Danube between the towns of Silistra and Călărași. The two minsters and the Commissionaire Crețu shared the position that the implementation of the project will revive the two regions and attract significant investment.
Minister Ivaylo Moskovski invited his Romanian counterpart in Varna to further discuss other joint initiatives and projects. At the end of April, talks will be held with the Transport Commissionaire Violeta Bulc in Ljubljana at the TEN-T Days forum.