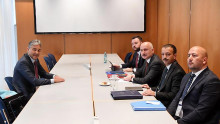 Deputy Minister of Transport and Communications Vladimir Varbanov and the Turkish Minister of Transport and Infrastructure Adil Karaismailoglu confirmed that the Working Groups between the two countries have identified specific measures and steps to be taken to reach the final resolving of the issue. Both sides met in the framework of the International Transport Forum in Leipzig.
The representatives of both countries noted that there was a considerable reduction in waiting hours at border crossings. Varbanov and Karaismailoglu agreed that the work to ease the traffic should be completed within 6 months at the latest.
They discussed the development of the Ro-Ro ferry lines Burgas-Karasu and Varna-Istanbul, which will further ease freight traffic at the border. During the meeting, the two sides agreed on stimulating port taxes on these lines.
Another topic of discussion was the possibility for opening a Bursa-Plovdiv air line, as well as the launch of a direct air line from Sofia to Antalya.