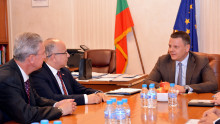 Bulgaria and Turkey start working on reducing the passing time of trains through border crossing points. This became clear during a meeting between the Deputy Prime Minister for Economic Policies and Minister of Transport and Communications Hristo Alexiev with the General Director of the Turkish State Railways Hasan Pezuk.
In the framework of the discussion, the two sides expressed a common opinion that it was essential to increase the turnover of goods, which would lead to the development of the economies of Bulgaria and Turkey.
In the talks with the Turkish delegation, the Deputy Minister of Transport and Communications Krasimir Papukchiyski emphasized that it was necessary to prioritize intermodal trains, which will allow profitability in terms of deliveries. He appealed for the acceleration of activities on the Cross-Border Cooperation Project and the East-West Transport Corridor.
"Currently, the two railway administrations of Bulgaria and Turkey are working to increase to twenty-four trains a day passing through the border crossing points", Papukchiyski said.
The Deputy Minister noted that the new railway border crossing between Bulgaria and Turkey, along the line Yambol - Lesovo - Turkish border, will meet the needs of the market and ease the traffic through the existing railway crossing Svilengrad - Kapakule. He pointed out that the Bulgarian side is actively working on the modernization of the railway infrastructure in the direction Serbian border - Sofia - Plovdiv - Turkish border.