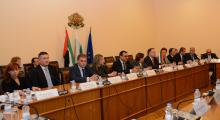 Opportunities for cooperation in the training of air traffic controllers and employees of the aviation administration of Bulgaria and the United Arab Emirates (UAE) discussed the Minister of Transport, Information Technology and Communications Ivaylo Moskovski and the Minister of Economy of the Emirates Sultan bin Saeed Al Mansouri. Minister Mansouri is paying a visit to Bulgaria upon the invitation of Minister Ivaylo Moskovski.
Both Ministers underlined the long-term and constructive partnership in the field of transport and communications between the two countries. One example of cooperation is the air transport. The Agreement on Air Services establishes a new legal framework and allows for the development of air transport and frequency of direct airline services between Bulgaria and the UAE, said during the meeting Minister Ivaylo Moskovski.
Among the issues that were discussed at the meeting today was the cooperation in communications and information technology and the possibility of participation of Bulgarian transport companies in Expo 2020, which will be held in the UAE.