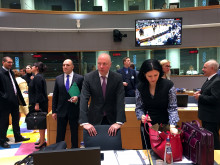 Bulgaria, Poland, Hungary, Lithuania, Latvia, Croatia and Malta voted against the common approach on the legislative proposals in Mobility Package I, which was adopted within the Transport Council of the European Union. In the 15-hour negotiations, Bulgaria expressed its firm stance against the proposed texts.
During the discussions, it was agreed that vehicles should not be made to return home, which was one of the "red lines" for our country.
The rules adopted in the arrangements maintain a total ban on regular weekly rest on board of the vehicle and allow two weekly rest breaks. Drivers shall return to the headquarters in the country of origin or residence every 4 weeks.
The general approach also stipulates the timeframe for retrofitting with new generation intelligent tachographs - 2022 for new vehicles and 31.12.2024 for all other freight vehicles used in international traffic.
Bulgaria, Poland, Lithuania, Hungary and Malta disseminated a declaration on the negative vote. A blocking minority in the negotiation process needed support from four more countries, such as the Czech Republic, Slovakia, Estonia, Finland.
The European Parliament is about to come up with a position on Mobility Package I, so that trialogues between the EP and the EU could start. In the EP negotiation process, different agreements may be reached.
The arrangements reached in the Council are not the final texts, the negotiation process continues as the main provisions with the transitional arrangements of the common approach will apply after 30 July 2020.
We will continue with the Bulgarian MEPs to uphold the national interest and we will use all the negotiation opportunities to achieve fairer rules for the sector. 
Minister Rossen Jeliazkov's speech to the media in Brussels can be found at the following links:
https://tvnewsroom.consilium.europa.eu/permalink/205441