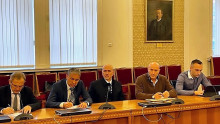 Purposeful state policy and investment in maritime education are needed. This is what the Minister of Transport and Communications Nikolay Sabev said at a meeting in the National Assembly with representatives of the maritime industry.
The participants in the dialogue pointed out that there was little interest in certain extremely important specialties in maritime transport. Therefore, the capacity of retired captains and professionals who could contribute with their experience and knowledge would be used.
"All those present today are striving for our maritime industry to be on the rise", Nikolay Sabev said. "It can bring great added value, so everything we do will be in the public interest", the Minister added. He assured that all actions of the new team of the Ministry would be in that direction. According to him, for the first time there was a good symbiosis of representatives of the maritime business and the executive branch.
"Bulgaria's future in the transport of passengers and goods is on tracks, but this includes a comprehensive consideration of the transport system without taking out of this equation the maritime, river and air industries, which have much potential", Nikolay Sabev said in the framework of the discussions.
The representatives of the maritime branch acquainted the Minister with the problematic topics for them: investments in higher naval education, the shortage of candidates in certain specialties such as naval engineers and others. Issues were raised about the lack of good infrastructure to ports, strong competition between neighboring countries, poor communication with the structures of the Ministry of Transport and Communications, increasing the level of cooperation between private and public structures, relocation of Maritime Administration Executive Agency in Varna upon emphasis that was not a good idea, etc.