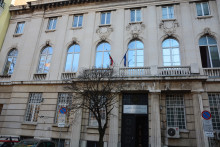 Bulgaria has the best conditions in Europe for the professional realization of women in terms of duration of maternity leave packages, leadership roles and economic opportunities. This was stated by Deputy Minister of Transport, Information Technology and Communications Andreana Atanasova during an online discussion a part of World Summit on Information Society.
The Deputy Minister cites Eurostat data according to which  about 1/3 of those employed in the IT field in Bulgaria are women, which is twice as much as the average in the European Union and ranks first our country. The opportunities for women's development in the digital area, home office or distant working are widely used option in all areas of services, allows women to be more flexible in combining work and home commitments noted Andreana Atanasova.
She was clear that attracting women to the IT sector is both Bulgarian government's policy and a conscious interest on behalf of business and society. "This doubles the potential of the professional IT community. Together with non-governmental organizations, there are a number of initiatives in Bulgaria to attract young people, girls and boys on an equal footing, in the digital sector " said the Deputy Minister.