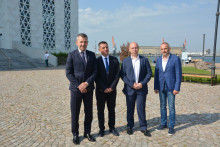 I supported the idea of Bulgaria's accession to the UN resolution, according to which "seafarers and other marine personnel" will be designated as key workers, the Minister of Transport, Information Technology and Communications Georgi Todorov said at the opening of the International Maritime Forum in Burgas today. "At the end of May, I sent a letter to the Secretary-General of the International Maritime Organization (IMO) on the accession of our country to the joint resolution. I also made a proposal to my colleague, the Minister of Health, for the preparation of a special protocol for action regarding seafarers who join and leave vessels, as well as the members of the crews of ships visiting Bulgarian ports", he added.
The Minister of Transport also called on all those present today to support the final document of the forum for Bulgaria's accession to the UN resolution.
In his speech, Georgi Todorov pointed out that one of the current topics in the European Union is the transformation of the economy to high efficiency, carbon neutrality and environmental friendliness. According to him, a large role in this process is given to the sectors related to the sea, united under the name "Blue Economy". It requires cooperation with the countries with which we share a basin district, he added.
"Speaking of improving efficiency, we must note the essential role of port infrastructure and multimodal connections with other modes of transport. Investments in the development of modern infrastructure are a guarantee for increasing the positive effect on the environment, working conditions, as well as attracting and handling more cargo", Minister Todorov added.
Our ports in Burgas and Varna are implementing their investment programs and showing good rates of development, he added. "We strive for the Bulgarian Black Sea ports to become even more attractive places for business, recreation and culture. To be the business card of Bulgaria", Georgi Todorov said.
In his speech, the Minister reminded that the day is marked by another important occasion, namely the International Seafarers Day. The Minister of Transport congratulated all seafarers, their families, as well as those working in the marine sector. "Being a seafarer is a way of life and a vocation. I express my sincere respect to all of you who have chosen the seafaring profession - a profession of courage, strength of spirit and responsibility!".
The Minister of Transport, Information Technology and Communications Georgi Todorov opened the International Children's Regatta "Chernomorets Burgas 2021".