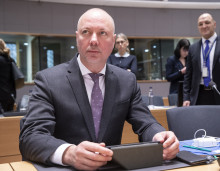 Bulgaria supports the market development of the cloud service providers in the EU. This was stated by Minister of Transport, Information Technology and Communications Rossen Jeliazkov at the Council of Ministers meeting on Telecommunications in Brussels. One of the topics today was "The European Union as a centre for ethical use of data".
2/3 of small and medium-sized enterprises in Bulgaria use cloud services, that is why we believe that the provision of remote access should be based on high standards for personal data protection, information security and data integrity, added the Minister. In his words, the European Union's ethical and social values and standards in the field of free movement of data should be promoted in an international context as well.
Minister Rossen Jeliazkov emphasized that there must be guarantees for business and citizens that they will be able to control the data they share. He has called for ethical rules extension about the autonomous intelligent systems, cryptocurrencies, fake news and algorithms for military purposes.
"In the context of the importance we attach to the competitiveness of the European economy, the adoption of conclusions on 5G Networks during the Council is a good basis for coordinated action for the effective implementation of fifth generation technologies with a focus on security." Minister Jeliazkov stated this after today's meeting on which conclusions on the significance of 5G technology for Europe's economy and the need to mitigate related security risks were adopted.