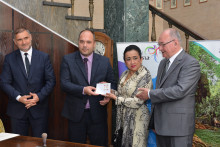 Bulgaria will take part in the World Stamp Exhibition "Bandung 2017, Indonesia" with a special exhibit on "Old Watches". The validation stamp of the edition was placed by Deputy Minister of Transport, Information Technology and Communications Dimitar Genovski, the Ambassador of Indonesia to Bulgaria H.E. Mme Sri Astari Rasjid, the President of the Union of the Bulgarian Philatelists Spas Panchev and the CEO of "Bulgarian Posts" EAD Deyan Daneshki.
"Over 60 million people in the world collect postage stamps and the letters, exchanged every year, are billions. Given this impressive statistics, we are proud of the fact that Bulgaria is among the leading countries in competitive philately", Deputy Minister Dimitar Genovski said during the ceremony. He recalled that Bulgarian philatelic exhibits have even been awarded gold medals at world forums. "I am convinced that this time our country will retain its leading role in the competitive philately", said the Deputy Minister.
The latest postal edition on "Old Watches" is formed as a block-sheet. It contains texts dedicated to the world stamp event. Artist of the project is Ivelina Velinova, and the number of the block-sheets in circulation is 2700.