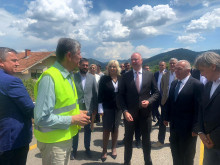 The Minister of Transport, Information Technology and Communications Rossen Jeliazkov, together with Deputy Prime Minister and Minister of Construction, Transport and Infrastructure Zorana Mihajlovic, inspected the construction works of the highway in Serbia from Nis to the border with Bulgaria.
Both ministers offered flowers to the monument of Vasil Levski in Tsaribrod and held a working meeting with the Mayor of the city Vladica Dimitrov.
During the talks, Minister Rossen Jeliazkov said there was a growth in tourist and business trips between Bulgaria and Serbia, and it was necessary to work on the accelerated development of the roads. He pointed out that the main objective was to achieve the necessary connectivity and integration of road and rail links so that there was better infrastructure between the two countries.
Minister Rossen Jeliazkov announced that activities along Corridor 10 on the Bulgarian side were being done on two road projects to improve the 32-kilometer section from Sofia to the Serbian border. The projects amount to a total of BGN 235.2 million, and part of the funds are provided under the EU Connecting Europe Facility and the rest comes from the national budget.