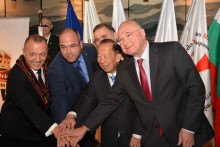 In the presence of the authority of the International Philatelic Federation and followers of the Order of the Templars in Bulgaria, a postage stamp was put into use in a block dedicated to the 900th anniversary of the Knight Organization establishing.
The edition will surely have not only national but also international popularity, Deputy Minister of Transport, Information Technology and Communications Dimitar Genovsky said during the ceremony. In his words, the artist of the edition, Yasen Gyuzelev, has depicted a cavalry of nine knights on the background of historical and cultural landmarks related to the Christian history and the Order.
Deputy Minister Dimitar Genovski pointed out that the collectible nature of the edition is also accented in the way of printing. 4000 block-marks are on special paper with individual numbering from 1 to 4000 of the total circulation of 10 100 pieces. The uniqueness of each specimen is also guaranteed by embedded ultraviolet fiber.
After the ceremony, the Deputy Minister held a meeting with the authority of the International Philatelic Federation. The president of the organization Tay Peng Hian and his deputies are in Sofia for a meeting of the Board of Directors of the prestigious organization. It was founded in 1926, unifies 95 national unions and represents the interests of 150 million collectors of postage stamps in the world.