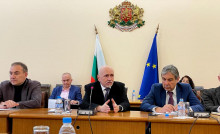 "We need advaced infrastructure and a single trade policy to make Bulgarian ports attractive," the Minister of Transport and Communications Nikolay Sabev said during the second discussion on the development of the Port of Varna and the region. "We have made it clear that we will protect the interests of the State, shipowners and shippers."
It was announced at the meeting that the Ministry had made proceeds for the transfer and management of the road to the port of Varna West, as it was in extremely poor condition and the municipality of Devnya had stated that it was not possible to maintain it.
Minister Sabev supported the idea of unifying the information systems of the Port Terminals and the introduction of a single electronic standard for document circulation.
It was proposed to seek assistance from the commercial attachés for an advertising campaign on Bulgarian ports. This will generate transit cargo through ports without much investment.
Public and private operators to develop a synchronized fee policy so as to attract more maritime traffic.
The chairman of the transport commission Borislav Gutsanov said that there was complete unanimity in the actions of the Ministry and the Transport and Communications Committee of the National Assembly.
By the end of the following week, all proposals made within the meeting would be reflected in the terms of reference for the preparation of a Master Plan of the Port of Varna.