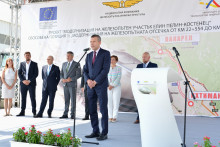 "The construction of the longest two-pipe railway tunnel, built so far in Bulgaria and at the Balkans, has started today," Minister of Transport, Information Technology and Communications Georgi Todorov said. He started the construction activities under a project for modernization of the Elin Pelin-Vakarel railway section. The site is part of the main railway highway in the direction East - West and is one of the extremely important for Bulgaria and neighboring countries European Corridor No. 8 and the passing TEN-T Network in our country.
The route is 20 km long and is part of the project "Modernization of the railway section Elin Pelin - Kostenets". The amount of BGN 498 million will be invested in the reconstruction of the 20 km long section under two Operational Programs "Transport and Transport Infrastructure" 2014-2020 and "Transport Connectivity", Minister Todorov said. Activities include the construction of a 7-kilometer two-pipe tunnel. The design speed for passenger transport is 160 km/h and for freight 120 km/h. According to the Minister, for the short term of the caretaker government railway projects worth BGN 1 billion and 100 million have been launched.
"The technical and operational challenges for the builder are extreme, as this lot is the most difficult of the whole section", the Minister added. At this stage, the state, represented by the Ministry of Transport, Information Technology and Communications, and the contracting authority, the National Railway Infrastructure Company, have fulfilled their obligations. From here begins the challenge for the company performing the construction activities as well as the implementation of continuous joint control over the entire process by the construction supervision company, the Minister added.
Minister Georgi Todorov expressed his opinion on the conditions provided for the workers and the engineering staff in the settlement built for this purpose, where there was an accumulation of equipment and temporary roads built.
Asked what assessment he would give for the elections to the 46th National Assembly, the caretaker Minister of Transport, Information Technology and Communications Georgi Todorov said that as part of the caretaker cabinet, he would not assess the political situation. I believe that we have fulfilled what we were appointed to do, namely to hold fair, transparent and free elections.