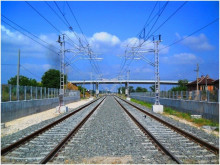 National Railway Infrastructure Company (NRIC) terminated the contract with the contractor of the project for modernization of the railway line from Sofia to Elin Pelin - DZZD KELET AB.
The contract with the Bulgarian-Hungarian consortium worth BGN 120 million without VAT includes design, construction and supply of materials for the 23-kilometer railway section. The initial deadlines for the completion of the site were until the end of 2020. Since the start of the contract, the contractor has mainly made supplies of materials, and the real physical progress for construction activities is only 43%.
In short terms, NRIC will announce a new procedure for the construction of the railway line under transparent conditions, which will enable the participation of a wide range of Bulgarian and foreign companies.
The Ministry of Transport and Communications and NRIC conducted inspections of all contracts for rehabilitation of railway lines in the country. Their results show very low levels of physical performance for most of the contracts signed from 2019 to the end of 2021. By Order of Minister Nikolay Sabev, NRIC will strengthen the control of construction activities and the quality of construction of the sites. The company will not approve received requests for updating the values of already concluded construction contracts, as a result of public procurement. In case the contractor declares impossibility to fulfill its contractual relations, the option for its termination will be considered.