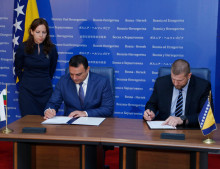 Cooperation between Bulgaria and Bosnia and Herzegovina in the field of road transport is encouraged. This became possible after the Agreement signed today in Sarajevo to amend the Agreement between the two countries on the international carriage of passengers and goods by road. The document was signed by the Minister of Transport, Information Technology and Communications Ivaylo Moskovski and the Minister of Communications and Transport of Bosnia and Herzegovina, Ismir Jusko.
The amendment creates preconditions for growth of the trade and economic relations, as well as for the development of the road transport of passengers and goods. The implementation of the Agreement will reduce the restrictions on the routes of the Bulgarian trucks and will lead to a general reduction of the operational costs. The opportunities for cooperation between carriers, based on trade and market agreements, will also increase.
Minister Moskovski is part of the official delegation headed by Prime Minister Boyko Borissov, who is on a two-day visit to Bosnia and Herzegovina. During the visit, Minister Moskovski took part in a plenary meeting between the representatives of the two governments, where topics of mutual interest were discussed.