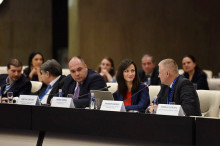 Digital society security is a shared responsibility of governments, civil organizations and businesses. This was the message of 150 top cyber security experts at an international conference in Sofia. The Cybersecurity Challenges Conference was organized jointly by the Ministry of Transport, Information Technology and Communications and the State e-Government Agency as part of the official program of the first Bulgarian Presidency of the Council of the European Union.
"At a time when we have millions of connected devices, when business depends to a large extent on the Internet, when our children spend time online, we have to stick to one thing – safety," said Mariya Gabriel, Commissioner for Digital Economy and Society. She further added that completing the Single Digital Market is one of the greatest opportunities for the European Union on its way to economic and social prosperity.
The question is how to find the right balance. Control is not the only solution to the security issues, stated Deputy Prime Minister Tomislav Donchev during his address to the participants in the conference.
"Every day, billions of citizens rely on Internet technology and innovation - from communicating with their loved ones, through e-health services to managing finances," stated the Deputy Minister of Transport, Information Technology and Communications, Dimitar Genovski. Meanwhile the number of attacks via blackmailing software has grown by 300% since 2015 and the economic impact of cybercrime has increased fivefold from 2013 to 2017. "When we deploy strategies and take steps to improve World Wide Web security, states, the business and the society need to act globally", continued the Deputy Minister.
State e-Government Agency's chair Atanas Temelkov stated before the participants in the event: "Risks and threats in cyberspace are common in Member States and we need a collective vision and enhanced cooperation to improve operational capacity at European level and build strong cybersecurity for the EU."
The first session discussed the European cybersecurity ecosystem. A separate panel was dedicated to Internet security.
Quite naturally, the subject of cyber hygiene was also topic of discussions. It is the focus of the National Education and Information Campaign, initiated by the State e-Government Agency, under the patronage of the European Commissioner for Digital Economy and Society, Mariya Gabriel. The initiative is supported by the Ministry of Transport, Information Technology and Communications and is popularized within the framework of the Bulgarian Presidency of the Council of the EU at various events.
Crisis management, operational co-ordination between Member States and the role of the European Network and Information Security Agency were debated with the participating high-level EU cybersecurity officers.
The final topic of the forum focused on cooperation at a political level, a.k.a. cyber-diplomacy, general legislative actions, the need for collective response and the development of research to counter Internet attacks.