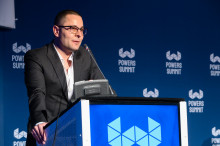 For the last 30 years there has been an increase in harmful emissions by 52 percent, the main reason being road transport. This is what the Deputy Minister of Transport and Communications Alexander Pulev stated in the framework of a discussion panel "Plan for Sustainability, Energy and the European Green Deal" within the Webit Forum in Sofia Tech Park.
That is why we have set a strong development of freight and passengers railway transport as a clear alternative, he explained. According to the Deputy Minister, the Sustainability Plan and the Transport Connectivity Program include a number of key infrastructure projects that will reduce harmful emissions. The implementation of cross-border transport projects that will enable connectivity between bus and rail transport is part of the statement of our country, presented at the Council of the European Ministers, as well as at the meetings at regional level.
Alexander Pulev assured the participants in the forum that the representatives of private business and entrepreneurship who are in the government of the country will transfer the best practices and expertise in solving economic and social issues.