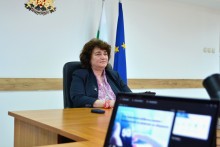 The digital part of the Connecting Europe Facility 2 will invest 2 billion euro in European high-speed connectivity infrastructures, stimulating the deployment of fifth generation (5G) mobile networks. This was stated by the Deputy Minister of Transport, Information Technology and Communications Mrs. Andreana Atanasova in a video conference with representatives of the municipalities.
The Connecting Europe Facility plans to continue the successful WiFi4EU initiative for free wireless internet in public places, she added. According to her, investments will be made in the local engines of socio-economic development (public administration, schools, universities, libraries, hospitals and medical centers, training, research and transport centers, digital enterprises, etc.), which are the real creators and suppliers of services of general interest.
According to Deputy Minister Atanasova, the aim of the new 5G Communities initiative is to have synergies between the already implemented WiFi4EU projects, as well as with the National Recovery and Sustainability Plan. "The deployment of digital infrastructure on the territory of Bulgaria includes the construction of 5G connectivity on cross-border corridors - Trakia, Hemus, Struma highways, as well as the connection with Romania and Turkey, improving coverage in settlements, focusing on peripheral, sparsely populated and rural areas. It is also planned to promote consumption by providing subscription vouchers, "said the Deputy Minister.
The main goal of the online conference was to acquaint local authorities with the benefits of 5G technologies, to debunk the myths about the harmful emissions they cause and to be informed about the upcoming opportunities for European funding. More than 70 representatives of the municipalities took part in the event. Deputy Minister Atanasova reminded that the fifth generation of technologies provides up to 100 times higher speed than the current one, over 99% reliability of the connection, 100% coverage, 90% reduction of the used electricity and significantly longer battery life of the final devices.
The technology has a variety of applications: intelligent traffic management, e-education, e-health, smart cities, smart farming, air quality monitoring, autonomous cars, home management and saving household resources and many others, said the Deputy Minister. "The fifth generation of technology will make healthcare even more affordable, especially in small towns, as patients will not have to travel for a prescription or routine consultation with a specialist. E-learning will be available to every household. "Smart farms will make it easier to work and use technology for both better yields and automated management of agricultural machinery," she said.
Andreana Atanasova said that the norms for the permissible levels of electromagnetic radiation in Bulgaria are over 45 times stricter than the standards in the European Union. "There are no intentions to change these strict restrictions so that the life and health of Bulgarian citizens are maximally protected," Ms. Atanasova concluded.