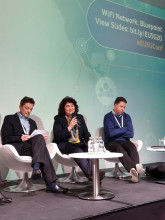 Sixth generation mobile networks can  be expected to be developed in 10 years. This was stated by Deputy Minister of Transport, Information Technology and Communications Andreana Atanasova, who, as Vice-Chair of the European Radio Spectrum Policy Group, participated in the 20th European Conference on 5G in Brussels.
One of the major challenges is the creation of a global international standard for this technology, which guarantees a single ecosystem and a single market, added Andreana Atanasova. She emphasized that, from a technical point of view, these networks will be extremely high-speed (terabytes per second), with huge capacity, with very little information transmission delay (microseconds) and very high reliability. "More relevant is the extent to which the applications and services that will be offered can be used adequately by consumers," the deputy minister said. In her words, if 5G can be called "smart" networks, then for 6G it is appropriate to speak of as "artificial intelligence" networks.
Andreana Atanasova announced that research circles in Europe are starting work on 6G. She was convinced that European programs provide funding for such projects. "For researchers to work, there needs to be clarity on the spectrum that can be used for these types of networks. This is also the role of the European Union's Spectrum Policy Group to guide and work on harmonized use of spectrum, "the Deputy Minister explained.
Speaking to participants in the forum, Andreana Atanasova said that standardization and certification of technologies for 6G networks should be ahead of their implementation. She stressed that the issue of getting to know and informing European citizens about the guarantees for their health and safety was essential.