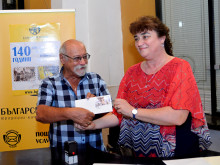 The Deputy Minister of Transport, Information Technology and Communications Andreana Atanasova validates a postage stamp on the theme "Great Travelers: Solomon Andre". The press for putting into use was also affixed by the project author Simeon Krastev.
"The postage stamp is an expression of Bulgarian respect for the great traveler and explorer Solomon Andre. His idea for the first balloon flight to the North Pole. The Swedish polar explorer has contributed to the study of species and to meteorology, "said Deputy Minister Andreana Atanasova.
The postage stamp in the block with the image of the researcher is in circulation of 3 600 pieces and a denomination of 0.65 in. With this mark the collector series continues after this year a small circulation edition for another noted Antarctic explorer - Captain Robert Scott was released.