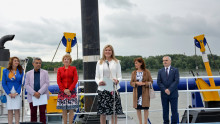 The newly built dredging equipment will enable the The Executive Agency for Exploration and Maintenance of the Danube River to efficiently and timely fulfill its obligations for maintenance of the waterway. This is what the Caretaker Deputy Minister of Transport, Information Technology and Communications Neli Andreeva stated during the christening ceremony of the new dredge. The godmother of the specialized vessel is the Ambassador of the Netherlands to Bulgaria, H.E. Bea ten Tusscher.
"Since 2017, MTITC has provided over BGN 16 million for dredging works, and with the purchase of this equipment the process will be optimized and costs reduced", Deputy Minister Andreeva said. According to her, the goal was to preserve the design depths of the river according to the recommendations of the Danube Commission.
"European funds have made a significant contribution to improving the Agency's activities", Neli Andreeva said. She noted that for the last 14 years the Agency had shown excellent staff training and expertise, and successfully implemented a number of projects under operational programs. "The total value of the approved, and to a large extent already implemented projects under OPT 2007-2013, OPTTI 2014-2020 and CEF 2014-2020 exceeds BGN 35 million", Andreeva added.
In front of the media, Deputy Minister Neli Andreeva also commented on the project for construction of Ruse-Veliko Tarnovo highway. She said that the construction of the highway was included in the new Program on Transport Connectivity 2021-2027, which was under consideration by the European Commission. "We expect approval of the proposed list of projects by September this year," Andreeva added.