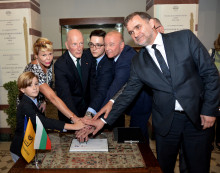 The deputy Minister of Transport, Information Technology and Communications Anguel Popov, Simeon Sakskoburggotski, the Executive Director of the Bulgarian Posts Deyan Duneshki, the President of the Board of Managers of the Union of the Bulgarian Philatelists Spas Panchev, and the members of the royal family Kalina Sakskoburggotska, Boris Sakskoburggotski and Simeon-Hasan Sakskoburggotski launched in use a postal-philatelic edition on topic "Famous Bulgarians-philatelists. H.M. Tsar Simeon II – Honorary President of the Union of the Bulgarian Philatelists". The event took place in the Regional Historical Museum in Sofia.
During the ceremony, the Deputy Minister Anguel Popov stated we have been continuing the tradition in the issuance of postage stamps, which was established in 2006, when was launched the new philatelic series "Famous Bulgarians-philatelists. The today's edition is the second of the series, and it is dedicated to one of the most famous hereditary collectors in Bulgaria – Simeon Sakskoburggotski", added the Deputy Minister.
The Deputy Minister explained that the designer Ludmil Metodiev has used for the stamp a portrait of Simeon Sakskoburggotski as on his background is represented a postage stamp dated 1938 with the locomotive driven by Tsar Boris III. The postal-philatelic edition is in circulation of 10 500 issues and includes one postage stamp with vignette and special postmark.