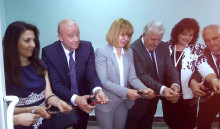 The Deputy Minister of Transport, information Technology and Communications Anguel Popov participated in the official opening of the exhibition Transtrend 2018 – Transport Innovations, Business and Education.
The new laboratory "Electric cars and stationary electric facilities", as well as the upgraded training facility for train engine drivers, were launched at the event.
Deputy Minister Anguel Popov thanked the university management for the efforts to develop the facilities. He pointed out that thanks to modern methods of training and practical implementation of skills and knowledge, the university creates professionals needed in the country's transport system.
The two-day event was organized for a second year in a row by Todor Kableshkov University of Transport – Sofia. Within Transtrend 2018, along with the numerous manufacturers' kiosks, there are seminars on transport technology and innovations planned.