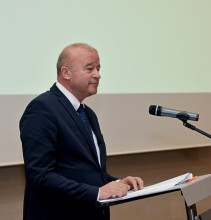 We are considering measures to change the driver training methodology and the use a differentiated approach of determination of the continuation of the driving lessons. This was announced by Deputy Minister of Transport, Information Technology and Communications Anguel Popov during the official ceremony of the Annual Awards for Contribution to Road Safety, during which he awarded the program "People, Roads, Cars" of the Bulgarian National Radio with the Media Section prize.
Anguel Popov said the state is making an enormous effort to tackle road safety issues. In his words, traffic safety is a national cause and without the active position of the media, it can not be realized successfully. He added that the industry is discussing options for introducing an electronic control system for practical training that will accurately monitor the continuation of the driving lessons. This will reduce the administrative burden of filling documents and will limit the grey economy, said Deputy Minister Popov.
The "Bulgarian Branch Association for Road Safety" organizes the event for eighth consecutive year".