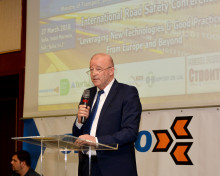 We are working on the upgrade of the system and register for technical inspection of vehicles, stated the Deputy Minister of Transport, Information Technology and Communications Anguel Popov at the opening of an international conference on road safety "New Technologies and Best World and European Practices". There is an active connection to the Ministry of Finance for automatic vehicle tax checks, while the connectivity to the systems of the Ministry of Interior and the Financial Supervision Commission is still developing.
Deputy Minister Anguel Popov stated that the software upgrade of the information system for technical inspections would facilitate real-time transfer of data from the equipment to the Centralized Information System that will automatically inspect the indicators and would prevent data frauds. He further added that the sample for the new inspection sticker will be ready at the beginning of May and will have a remote control chip with information on the technical and ecological condition of the vehicle.
Deputy Minister Popov pointed out that in order to improve road safety, it is vital to split the Road Traffic Law into three separate acts. One to regulate the traffic rules, the second – the requirements for vehicles and repair shops, and the third to concern the motorists. In his words, a possible Road Vehicle Act will regulate the activity of repair shops, as there will be a public register with personal user access. "It is an extremely complex process, yet needs to be done, so as to improve the sector, and reduce illegal competition and unfair practices while guaranteeing people's rights", he further explained.
Today's event is held by the Road Safety Bulgarian Branch Organization and is part of the agenda of the Bulgarian Presidency of the Council of the EU. The conference is organized in association with the Ministry of the Bulgarian Presidency of the Council, Ministry of Regional Development and public Works and Ministry of Interior.