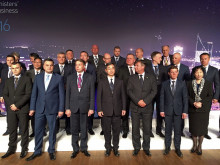 Deputy Minister of Transport, Information Technology and Communications Anton Ginev participated in the First Central and Eastern Europe Countries – China Transport Ministers' Meeting (16+1) and a Business Conference. The events took place in Riga, Republic of Latvia, in the period 16 – 17 May 2016.
Within the frame of the Ministerial Meeting Deputy Minister Ginev made a presentation entitled "Bulgarian transport infrastructure. China and Central and Eastern Europe Countries connectivity."
The meeting was intended to provide the participating countries with the opportunity to introduce themselves and to inform on their expectations on exploring new ways to develop cooperation between China and Central and Eastern Europe Countries in the fields of transport and logistics. At the meeting was adopted the conceptual document "Riga Guidelines".
In the First Meeting took part Ministers, Deputy Ministers and experts from China and the countries involved in the 16+1 initiative.