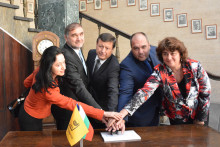 Deputy Minister of Transport, Information Technology and Communications Dimitar Genovski and the chairman of the Communications Regulation Commission Veselin Bozhkov validated a postage stamp on 20 years since the establishment of the independent regulator.
During all these years, the Ministry of Transport, Information Technology and Communications worked together with the Commission to adapt our legislation to the European Union's legal framework, Deputy Minister Dimitar Genovski said during the ceremony. "Together, we have created and maintained a competitive, predictable and fair working environment for all telecommunication and communications operators. At the same time, the protection of users' rights remains our priority, "he added.
In the framework of the first Bulgarian Presidency of the Council of the European Union, the two institutions will continue their cooperation to support the forthcoming massive legislative reform in the field of electronic communications and personal data protection, Deputy Minister Genovski said.
Over the past years, we have established ourselves as an authoritative institution, said CRC's chairman Veselin Bozhkov. In his words, the Bulgarian Independent Regulator is the only one whose market analyses have not been received notes by the European Commission.