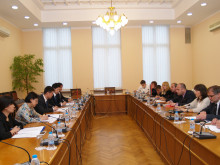 The dynamic growth of e-commerce in recent years is a significant factor for the postal sector, that was stated by Deputy Minister of Transport, Information Technology and Communications Dimitar Genovski during the talks with representatives of the State Post Bureau of the People's Republic of China. One of the main goals of the official visit of the representatives of the Chinese postal administration in Bulgaria is the development of cooperation in the exchange of postal items between the two countries.
Opening markets is an opportunity for modernizing the postal sector, said Deputy Minister Dimitar Genovski. In his words, the historical postal operator have the most developed network in the country. The Bulgarian Deputy Minister informed his Chinese colleagues that 160 postal operators operate in the postal market in Bulgaria, in fully competitive conditions. In 2016, the total number of consignments and services provided amounted to 184 million, an increase of 5% compared to 2015. "In 2016, online commerce in our country grew by 14%, while for the whole of Europe the growth was 12%. As a lasting trend in the coming years, there is an increase in the shipments volumes and the revenues of postal operators generated by the development of the e-commerce " said Deputy Minister Genovski.
The Deputy Director General of the State Post Bureau of China, Mr. XING Xiaojiang said that the postal sector is again on the rise owing to the e-commerce. The Chinese Postal Administration delegation presented opportunities for cooperation within the Belt and the Road Initiative. Issues of postal planning, postal market regulation and coordination within the Universal Postal Union were discussed during the talks.