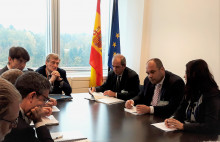 Ensuring a reliable and predictable legal framework for the electronic communications will stimulate the investment in high-speed connectivity and the competition of digital networks and services. This was stated by Deputy Minister of transport, information technology and communications, Dimitar Genovski during the Council of ministers for Transport, Telecommunications and Energy, "Telecommunications" format, in Luxembourg. He confirmed the readiness of the Bulgarian Presidency to work and conclude the negotiations with the European Parliament on the revision of the regulatory framework that is strategic for the digital economy.
The ministers discussed the implementation of the digital single market strategy during the meeting. Deputy Minister Genovski presented the Bulgarian position on accelerating work on the proposal on the free movement of non-personal data in his statement. "The benefits of opening up the public sector data are indisputable," he said.  
The ministers also discussed specific actions in implementing the Network and Information Security Directive. They also presented steps to promote cyber-investment. The Bulgarian position is that a secure European network environment requires public and private entities to be well prepared to manage with the challenges, including through the public-private partnerships. According to the Deputy Minister, member states should coordinate awareness-raising campaigns as well as support cybersecurity training in universities and curricula.
At the Luxembourg forum, Deputy Minister Dimitar Genovski held bilateral meetings with the Minister of Energy, Tourism and Digital Affairs of Spain, Alvaro Nadal Belda, with the Minister of State for the Digital Sector, attached to the Prime Minister, Muner Mahwebi, and Deputy Prime Minister and Minister of public administration of Slovenia, Boris Koprivnikar. The main topic of the talks were the priorities of the Bulgarian Presidency of the Council of the European Union.