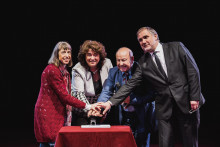 The Deputy Minister of Transport, Information Technology and Communications Andreana Atanasova and the founder of Academic Circus "Balkanski", Alexander Balkanski launched in use a postal-philatelic edition. It is dedicated to the 200-year professional tradition of Balkanski Family.
On the World Post Day, we do present an edition, dedicated to the most widely accepted art, said during the ceremony the Deputy Minister Atanasova.
"As the philately and the stamp reach every one of us, the same way the Circus Art touches our hearts. I am glad that in difficult times, Bulgaria has a worthy Circus team, able to spread the message of happiness", added the Deputy Minister.
The artist Maya Cholakova depicted two of the most popular performances of the Circus Dynasty. The circulation of two postage stamps in block and a special postage print is 6100 pcs.