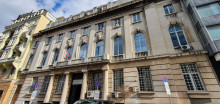 Deputy Minister of Transport and Communications Vladimir Varbanov held a meeting today with representatives of the aviation industry. During the talks, a general opinion was expressed that timely and fair support from the State is needed to this very important sector of our economy.
On March 18, 2022, the European Commission approved the scheme to support Bulgarian air carriers.
The Ministry of Transport and Communications announced the terms and conditions for application on April 14, 2022. The total amount of financial aid under the scheme is up to BGN 60 million of national funding from the State Budget of the Republic of Bulgaria.