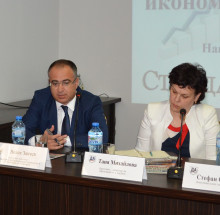 Concessions are good form of governance, as the assets remain state-owned, and in the same time is invested in them. That stated the Deputy Minister of Transport, Information Technology and Communications Velik Zanchev during the eighteenth discussion of the campaign "Yes! To the Bulgarian Economy", which took place in Plovdiv.
At the present stage, two procedures for granting to a concession of sites of the transport infrastructure are being conducted at MTITC – for Plovdiv Airport and for Plovdiv Intermodal Terminal.
The first concession contract in Transport sector was signed in 2006, as there have been concluded 15 contracts in total to the moment. The revenues from concession payments are over BGN 216 Million, said the Deputy Minister Zanchev.
We are willing at MTITC to realize the concession of Plovdiv Airport as the same is valid for the Intermodal Terminal in the city, because they need a good operator, which to manage them best in order to achieve maximum benefit to the country, concluded the Deputy Minister.